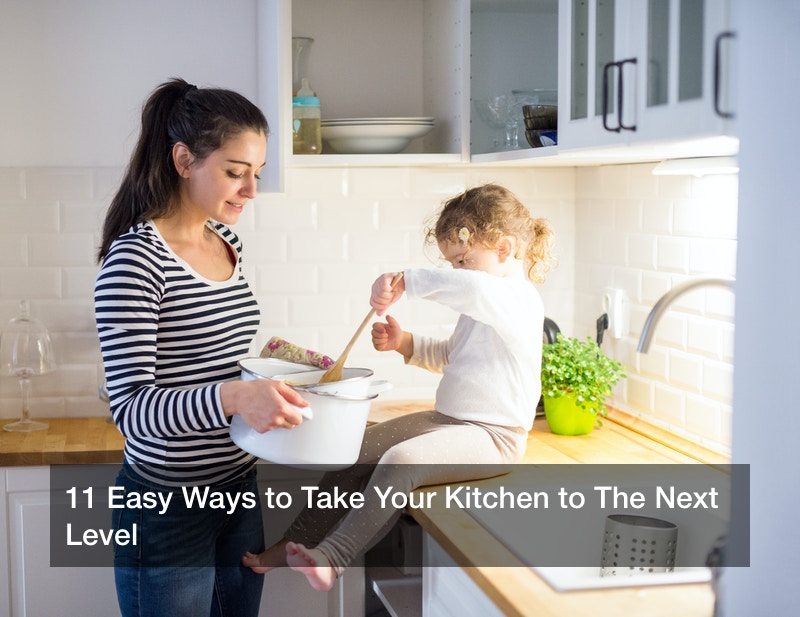 When it comes to increasing the value of your home, one of the best rooms to remodel is the kitchen. Considering it is one of the most-used areas in the house, it really should be both beautiful and functional. Not to mention, most kitchen remodeling projects have a great return of invest at over 82%, so there is practically nothing to lose.
Still, we know that the planning and cost to upgrade your kitchen can feel overwhelming. That's why we curated this list of the 12 most important areas on which to focus. From saving money now to increasing your earnings in the long run, here are the best ways to overhaul your cooking space.
Focus on Maintenance
Adjust the Lighting
Embrace The Appliances You Have
Switch Up Your Hardware
Make Your Sink Work for You
Try a Kitchen Island or Peninsula
Refinish Counters and Tile
Brighten Your Space with Paint
Know When to Hire a Pro
Update Your Flooring
Keep Your Investment Safe
1. Focus on Maintenance
This is the first and most important step to upgrade your kitchen because it is the platform on which all other improvements can be built. If your kitchen suffers from a general lack of care and maintenance, you could be potentially adding expensive upgrades on top of materials that will eventually need to be torn out.
Before starting to upgrade your kitchen, take a look around for signs of the following problems:
Warped, missing, or sagging ceiling tiles
Uneven, sinking, or otherwise damaged floors
Mold near sources of water
Damaged windows
Inadequate venting near stove
These types of issues can be signs of damage or other problems that could lead to future detriment. While many of these issues can be tackled on your own, remember that any signs of structural damage need to be addressed by a professional. If your floor is damaged, contact a flooring company to discover the extent of the issue. Once the general maintenance is handled, it is finally time to upgrade your kitchen.
2. Adjust the Lighting
How are the lights in your kitchen?
Do you have flickering, fluorescent lights? Maybe you have an obnoxiously low chandelier, or one single light that casts shadows on all the worktops.
It is impressive how much good lighting can improve a kitchen. If you are lacking for functional, warm, inviting light, consider tackling a DIY lighting project.
Most modern light fixtures come with fantastic instructions that make their installation a fairly straightforward task. If you decide to install more lights than you have wiring locations, you may need to contact an electrician to rewire the area and assure your fuse is putting out enough electricity for the upgrades.
Another technique is to utilize windows and natural lighting in your kitchen. Try switching out opaque blinds and curtains for shear alternative, or nothing at all. The light that will leak into the kitchen can create a cozier, more comfortable feel to the overall space.
To boost the lighting on your worktops, consider adding adhesive lights or string lights on the underside of your cabinetry. These options provide wonder lighting without hurting the aesthetic of the cabinetry.
3. Embrace The Appliances You Have
You might be sweating thinking about how much it will cost to upgrade your kitchen appliances, but slow down. There may be no need to buy new appliances.
Large kitchen appliances have a life expectancy of up to 15 years, so you may be able to get some good use out of what you have. If the items in your kitchen are a little rusty or grimy, grab some sandpaper and prepare to muscle up. With a little effort, you can get them shiny as new. If your problem is that everything is, well, ugly, consider trying an appliance paint to create a uniform look across all your pieces.
If some of your appliances aren't working properly, you may still save money repairing over replacing. For instance, gas stove repair bills are still far lower than purchasing a new stove, which can cost over $5,000.
4. Switch Up Your Hardware
When you think kitchen remodel, do you think about the handles on your cabinets and drawers? Well, you definitely should. Not only is it easy to upgrade your kitchen hardware, but it is also extremely inexpensive. You will be amazed at how great your kitchen will look when modern, functional pulls and handles.
Love the hardware you've got?
Pull the hardware and give it a good soak and cleaning with some vinegar. If the vinegar isn't strong enough to brighten the pieces, consider a specialty cleaner for specific metals like brass, silver, and gold.
5. Make Your Sink Work for You
You don't have to settle for a small sink that forces you to strategize your dish-washing and food prep. There are hundreds of options for sink basins, hardware, and amenities that can make your life easier and boost your property value. Here are a few popular sink upgrades you may enjoy:
Water Treatment Systems: You can get water purification technology installed directly into your sink's plumbing. This can save you money, reduce your plastic waste, and add a high-end feature to your kitchen.
Disposals and Compactors: These options are also great ways to reduce your overall waste. Disposals break down food waste in the sink drain to allow it to run through the sewage system. Compactors can take your dry and wet waste and reduce the area it needs to fit in your dumpster.
Touch Control Technology: Touch to activate sinks are becoming increasingly popular. This feature allows you to seamlessly move through cooking and cleaning tasks without having to empty your hands.
Real Time Temp Gauge: If you have ever used a digital baby bathtub, you know how convenient it is to have a real-time thermometer at your disposal. This feature on sinks is great for reducing water waste trying to estimate temperatures. It also keeps children from burning themselves when using the sink.
With all these modern features and a seemingly endless choice of sink basin designs and styles, there is no reason to struggle with a tiny, useless sink.
6. Try a Kitchen Island or Peninsula
Two features that can be used to upgrade your kitchen counter space are islands and peninsulas. An island is a great way to create more counter space in the center of a wide kitchen. Additionally, many islands can be purchased pre-fabricated and with wheels. This means it can be placed against a wall when not in use, which adds to the functionality.
Peninsulas are additions added as an extension to an existing counter. Homeowners often utilize peninsulas to install appliances they didn't previously have room for. It is typically easier to install appliances or sinks in a peninsula than an island due to the proximity to pre-existing plumbing. However, peninsulas can't be moved once installed, so be sure to choose the option that is the most functional for you.
7. Refinish Counters and Tile
Beautiful countertops and bold backsplashes can take a kitchen to the next level. Unfortunately, replacing these items is extremely expensive.
The good news is, advances in home improvement materials has lead to the production of kits that allow you to refinish these areas to create an expensive look on top of your existing surfaces.
Refinishing Counters
Refinishing a countertop must be done with a special kit that varies based on the finish you are looking for. These kits can be used to upgrade your kitchen counters for under $100 depending on the kind you choose.
Your finish options vary but the process usually involves using an acrylic pouring system. The process requires you to tarp and tape off your kitchen for a few days, but is DIY friendly and costs thousands less than replacing your counters.
Refinishing Tiles
upgrading your tile work is less expensive than replacing counters, but it is also incredibly tedious and not at all beginner-friendly. Luckily, there is a great option available for refinishing existing tiles
Tile refinishing is done through the use of a product called enamel paint. These paints dry and harden into the glossy tile look you are used to and are great for use on tile work. You will need to sand your tiles and carefully tape off the area for painting, but the overall work time and cost comes in far below replacing the tiles.
Creating a New Backsplash
If you want to create a tile backsplash on an existing wall, you might enjoy adhesive tiles. These can be found at practically any hardware store and are prearranged into large sections that can be adhered directly to the wall. It is a very beginner-friendly project and can add a lot of value to your kitchen.
8. Brighten Your Space with Paint
Adding paint to your counters and walls is a great way to create a personalized look in your space. Many homeowners like to add bright colors to their cabinets to bring warmth and openness to their kitchen space.
Another fun trick is to play with the use of dark and light walls to create optical illusions that can make a room look wider, longer, or taller.
9. Update Your Flooring
There is nothing worse about a kitchen than stinky, cracking, old floors. If you stop to think about all the things a kitchen floor sees in a lifetime, it is no wonder the thing needs replaced every so often.
Depending on the type of flooring you prefer, prices may vary greatly. Two great, cost-effective options are vinyl and laminate.
Vinyl Flooring
Vinyl flooring is a waterproof alternative to real wood flooring that is thick, durable, and cost-effective. It is often chosen for its ability to withstand heavy foot traffic without taking on damage the way traditional wood does.
Laminate Flooring
Laminate flooring is also commonly used to emulate a hardwood floor. It is typically cheaper than vinyl and has a softer, warmer feel due to the inclusion of wood fiber in its structure.
However, laminate flooring is not as waterproof as vinyl, nor does it last as long. So, be sure to weigh all the pros and cons before choosing which option is best to upgrade your kitchen floors.
10. Know When to Hire a Pro
From electricians to a countertop contractor, certain professionals are well worth the cost. These tradespeople have spent years mastering their craft and can ensure that the work done in your home is up to code and installed properly.
If you plan to upgrade your kitchen you should ensure you have budgeted enough money to pay any professionals needed for dangerous or complicated jobs. Some tasks may even be required by local laws to be handled by licensed pros, so be sure to do your research before diving in.
11. Keep Your Investment Safe
When your kitchen improvements are complete, will they be safe?
It is important to focus on maintaining your investment through the use of proper safety devices, insurance, and care.
One way to protect your kitchen is through the use of smoke detection devices that will alert you of fires or potential fires. In tandem to the smoke detectors, always keep a fire extinguisher in your kitchen to quickly put out flames.
Another way to protect your investment is by making sure you inform your home insurance company of the plan to upgrade your kitchen. They can then calculate the added value to your home and create a new insurance plan that will account for the remodel.
On top of fire safety and insurance, don't forget to regularly maintain your new kitchen. Check regularly for leaks, pests, and other damage can allow you to repair issues quickly and avoid major issues further down the road.
It doesn't take much to protect your investment and your pocketbook will thank you.
Summary
Upgrading your home can be exciting, but overwhelming without proper planning. Let this guide help you plan the best way to upgrade your kitchen to create a space that achieves your remodeling goals.
Taking the time to evaluate which tasks are DIY friendly, which need a pro, and which can be skipped all together is the best way to pave the way to a successful project. Whether you want to sell the house for profit or just gain functionality in your daily life, a kitchen remodel is a great place to start.
Please follow and like us: