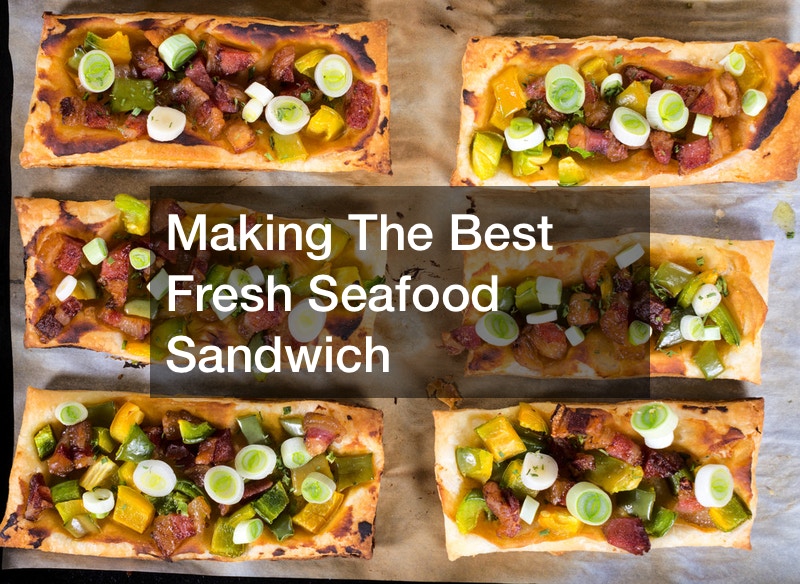 This fresh seafood sandwiche is the perfect sandwich for seafood lovers. While this sandwich may seem like a lot, it's only 774 calories with 85 grams of protein, 27 grams of fat, and 43 grams of carbs. Any of the ingredients, like mayo, can be substituted for healthier options to cut the calorie intake.
It also features kimchi, a probiotic that helps with gut health, so you won't feel too bad about eating this delicious sandwich.
This recipe requires raw shrimp, and once you place it in a food processor, along with freshly grated ginger and garlic, chili sauce, red or white miso (be very careful as this is salty), mayo, and fish sauce, you will pulse these together to make a shrimp paste. Add some green onions and sesame oil and do a test fry to season to your taste.
Then take the large scallops and cut them in half, making sure to take off the straps. Place the 6-8 of the scallop halves in a ring mold on the baking sheet, then take the shrimp paste and push it into the mold, filling the cracks of the scallops. Place more scallops on top and carefully remove the patty from the ring mold. Place it in the fridge to air dry for half an hour and with a skillet, sear both sides of the patty to get a beautiful golden crust. Bake for 10 minutes at 350. A delicious fresh seafood sandwiche!
.
Please follow and like us: