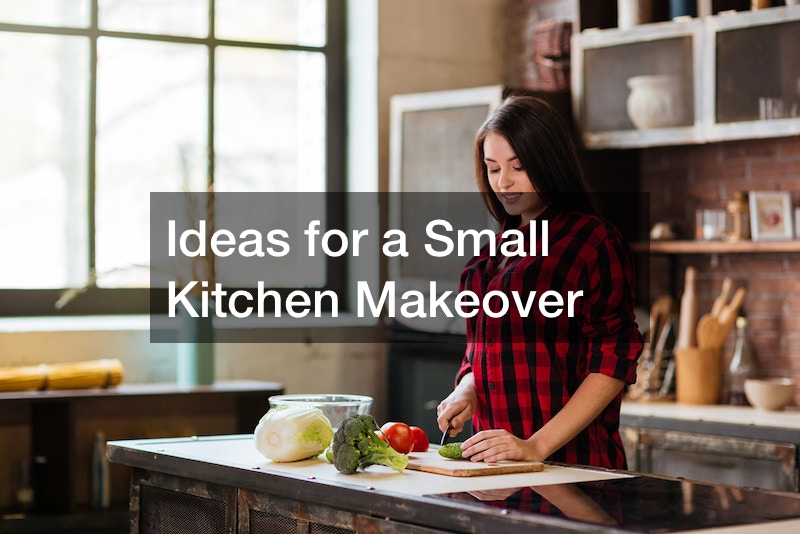 The kitchen is a space in your home that you should ensure looks its best and feels amazing to spend time in. If you can make it into this, you may be more motivated to spend time in it along with your family. This may improve your health since you can cook clean, healthy meals and avoid eating too much takeout. You may also strengthen the bond that you have with your family if there's room and an attractive ambiance in the kitchen. Have a look at these ideas for a small kitchen makeover and borrow from them so you can improve your kitchen.
Work on the Storage
The first item on this list of ideas for a small kitchen makeover is storage. Your kitchen may not have changed much over time, while your family's needs might have changed. That said, you may find that what was originally ample storage for you is currently struggling to hold all your items. This makes it a great idea for you to rethink your storage during your next kitchen remodeling project. To do this, you could add more cabinets, or better yet, make the switch to open shelves.
If placed the right way, open shelving may upgrade your storage needs and also improve the appearance of your kitchen. This is because shelves give a kitchen a modern appearance and are typically easy to maintain. This is also an easy renovation project, so it will be fast and affordable to do. You may not even have to call professional remodeling services if you have the tools and skills to install them yourself. You'll notice that shelves make your kitchen appear more open and airy.
Change the Flooring
The floor is another important element to think about changing in the kitchen. That said, if your kitchen floor hasn't been changed in a long time, you may want to consider prioritizing this upgrade. One of the best flooring you can get for your kitchen is vinyl flooring. That's because it can be found in a number of patterns, including wood grain patterns that will make it look like you have expensive wooden flooring in your kitchen. Look for a vinyl option that's going to fit your budget and the rest of the ideas for a small kitchen makeover you use.
To add some character to your kitchen floor, you could also get a kitchen rug or two. You can use a kitchen rug as decor to help tie everything together. Get a high-quality rug such as a Persian rug, and you can be sure that your kitchen will look modern and sophisticated. You may also lower the chances of slipping while you work in the kitchen since a good rug will counter the likelihood of slips and falls.
Fix Troublesome Plumbing
If your plumbing has issues that seem to wear you and your family out, it's advisable to fix them fast. Some of these issues include having slow-moving drains that can't drain water away as fast as it needs to. Other signs are water having a strange smell, which may indicate rusted or otherwise damaged pipes. If you suddenly have an infestation of drain flies in your kitchen, it may be a result of clogs in the drain. These provide a great environment for drain flies to feed and reproduce.
Another reason why you may need to call a plumber to your home for a kitchen plumbing upgrade is if you have low pressure. Broken fixtures can also pose an inconvenience to you and your family. If you have taps and other plumbing accessories that have seen better days, it's going to be good to add them to your list of ideas for a small kitchen makeover. Working on them is going to make an amazing difference to your kitchen and make it more functional for you.
Paint the Walls
Another one of the best ideas for a small kitchen makeover is to paint the walls. Pick a calm, neutral shade that will refresh the kitchen and make it feel like a brand-new space. Bold and bright colors may seem attractive and edgy, but they tend to wear on people's nerves in a short time. There are also many things in the kitchen and they'll all be competing with the color and decor in your kitchen. Because of this, it's a great idea to keep the kitchen's walls a simple color. This way, it may also be easier for you to keep the color within a similar shade over a number of painting sessions.
If you like, you could call a local interior painting contractor to paint your kitchen. This is going to save you time and ensure that you get professional results in the end. If you don't want to pay for a painting service, you can try painting your kitchen yourself. You simply need to check online for a comprehensive guide on how to paint your home. Doing this will help you find out the tools that you need. It will also show you some important tips and tricks that can make the process easier for you and improve your outcome.
Work on the Lighting
There's no doubt about how big a difference the lighting in your kitchen, or any space in your home for that matter, can make. That said, add this to your list of ideas for a small kitchen makeover. The size and layout of your kitchen will impact the kind of lights you can get, so put that into consideration. If you can get gorgeous fixtures, they'll have a role to play whether the lights are on or they're off. Remember to also switch the bulbs themselves and get LED bulbs as these are more sustainable for a number of reasons.
If you have the option of adding natural light to your kitchen, you should take advantage of it. This may involve calling a home window service to either expand your existing windows or add others. Make sure to work with a professional if you take this option so that you don't run the risk of damaging your home's structure. This is important to do since it's going to be expensive to have to fix structural damage. This may be caused by something like breaking down a wall that played a major supporting role to the rest of your house. When you get new windows, it's a good idea to also get a new window covering. This should match with the rest of your kitchen to create a flowing effect.
Upgrade Old Appliances
Technology is changing at a constant rate. This applies to everything, including your kitchen appliances. That said, you stand to enjoy a tangible improvement by upgrading old kitchen appliances to new ones. If it's been a long time since you replaced any appliance and it's starting to fail or it simply can't keep up with your needs, start shopping for a replacement. When you hit the shops for this, look for appliances that have a good ENERGY STAR rating. This is because they'll be more sustainable and will save you a considerable amount of energy.
Your appliances may not be old enough to replace or you simply don't have the budget to add new ones to your list of ideas for a small kitchen makeover. In this case, it's going to be beneficial to service or repair them if they have small issues that you feel are manageable. Look for a professional for your fridge or oven repair or any other service you need. Start off by asking for a quote from the professional. When you do this, you'll be able to make a better decision as far as fixing or replacing goes. This is because some repairs may be costly enough to make simply buying a new item the better option. Take time to find out what the best course of action would be in this case so that you make the best call for your kitchen and finances in the end.
Add Some Decor
Decor is welcome in every space in your house, including the kitchen. This is because it can play up a space and make it lively. The decor is also a great way to add a touch of personality to your kitchen. That said, you could add anything, from plants and paintings to sculptures and functional art or even a screen. Whatever you get, make sure that it has a positive impact on your kitchen and doesn't leave it looking cluttered or dated. Check online to see if you can find kitchens that have a similar layout to yours. Have a look at the decor that they're making use of so that you can get some ideas for yours.
Keep decor minimal so that it doesn't crowd in on you or even make it harder to work in the kitchen. Also, ensure that it's easy to keep clean and doesn't pose a risk to your health as a result of causing emissions or containing toxic substances. Making these considerations will enable you to make the best call and get a kitchen that looks and feels exactly how you want it to. This is one of the ideas for a small kitchen makeover that could be rewarding to DIY if you have the time for it. You can add pieces as you go until you get to a point that feels perfect for your needs.
Change the Accessories
Your kitchen has a number of small elements that come together to affect the final appearance of your space. These include the knobs on your cabinets, light switches, and even electrical outlets. To make sure your kitchen looks seamless and well-planned out, you should upgrade the appliances. If any are old or some are missing, change them all to make a small yet impactful change to the space. This is another one of the best ideas for a small kitchen makeover that could give your kitchen a new lease on life.
You could take things a step further by upgrading the faces of your cabinets and other surfaces that aren't work areas. An amazing idea for your cabinets is to paint them or apply some wallpaper to them. Pick a color and pattern that matches the rest of your space for the best outcome. For example, a coastal theme wallpaper will be perfect for you if the rest of your kitchen has a similar theme. This project doesn't need specialized tools or technical skills and so you can easily DIY if you like. A single afternoon is more than enough for you to add wallpaper where you need it and so you should consider getting it done as a final kitchen upgrade task.
Add Labels
Finally, as mentioned, the kitchen contains a large number of items. You can level up your storage and organization by getting containers and making use of labels. This will make it easy for you to work more effectively in the kitchen and it can also help you easily spot when something is running low and you need to replace it. Pairing labeled containers with open shelving can work wonders for your kitchen and improve its functionality at the same time. Swing tags and markers are other options that you could use to label your containers and jars and add some personality to your kitchen.
These ideas for a small kitchen makeover should give you a creative boost to upgrade your kitchen if you need one. You'll notice that the space is a lot more welcoming as a result of doing this. The best thing about these ideas for a small kitchen makeover is that you don't have to do them all at once. You can work on one at a time until you get to the point where your kitchen looks exactly the way you want it to look. You could also DIY some of them if you have the time and willpower. Note that the gratification may be just as good when you have a professional do them for you.
Please follow and like us: