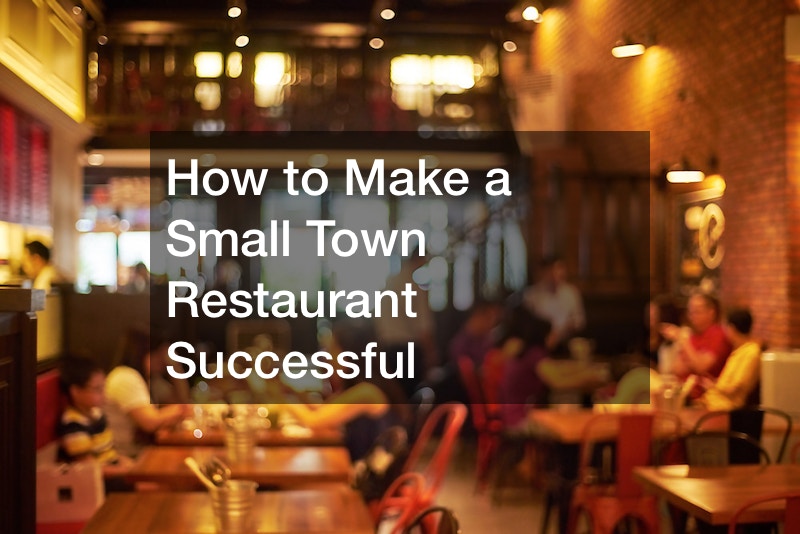 There's something about small-town restaurants that both tourists and locals find appealing. Is it the intimate and cozy atmosphere or the feeling of being away from the hustle-bustle of crowded and busy city life? Either way, there's nothing to match the dining experience in small-town eateries.
If you're interested in setting up a small-town restaurant, you must first understand the several factors involved in the process. From menu, pricing, and location to interiors and marketing, a lot can impact your restaurant's success and determine if it will survive in the long run.
You're probably wondering, 'How to make a small town restaurant successful?' Well, read on for some insights on how you can do so. With these tips, your restaurant will have what it takes to thrive and become profitable.
Create a Delicious Menu
What's the one thing customers go to restaurants for? Obviously, food. But not just any food, but food that tastes good and different from what anybody routinely prepares at home.
You'll need a delicious menu to attract and retain customers. Wouldn't you return to a place with an impressive menu and mouthwatering dishes? So, how to make a small town restaurant successful with a delicious menu?
A well-crafted menu will not only have your customers returning for more, but they'll also recommend the place to their family and friends. Use a combination of catchy images and text to attract the diners. Although, keep in mind that your restaurant's menu must also significantly impact the food costs.
Here's a helpful tip: Design a menu with items that can be quickly prepared and use similar ingredients. It helps reduce the overall food preparation costs and minimizes waste generation.
Don't forget to support local suppliers and incorporate locally-sourced ingredients into your menu.
Give Your Seating Area a Makeover
While the menu pleases the mind and tastebuds, the seating area pleases the eyes.How to make a small town restaurant successful with a seating area makeover?
The real challenge lies in adjusting your seating area in the available space. You don't want to make it too crowded. At the same time, you don't want a smaller seating capacity, causing customers to wait in long lines for a table.
A thoughtful seating arrangement helps create a sense of intimacy or community.
How you do the interiors of the seating area will make up the ambiance and dining experience. A well-designed seating area will give your customers a memorable experience.
Some elements that go into the making of an attractive dining area are the decor, music, and lighting. There's also the matter of heating and air conditioning to keep the seating area comfortable no matter the season. An HVAC unit might not be a bad investment for this.
Based on the theme of your restaurant, country, rustic, artsy, modern, or days of yore, you must ensure the seating area reflects the theme and ambiance.
Remember, you can expect customers in different group sizes – a solo diner, a couple, or a large group. Ensure different seating options to cater to the different needs.
Overall, your restaurant's seating area must be comfortable and inviting. If you'd like a professional to step in and do the work, hire an experienced building contractor.
Keep Pests Away
Imagine how you'd feel if you saw pests like rodents, flies, or roaches at a restaurant you're dining in. Obviously, you would gag at the sight of these pests and never want to dine there again for hygiene purposes.
Pests, while unavoidable at restaurants, can also be detrimental to the reputation and success of the place. From negative reviews to lost customers, you'll be out of business in no time if pests harbor in your restaurant. How to make a small town restaurant be successful by keeping pests away?
Think about all the harmful bacteria and diseases that these pests carry. You wouldn't want that in your restaurant – in the kitchen, washrooms, or seating area. To ensure the food you serve at the restaurant is safe and hygienic, you must take all measures to keep pests away.
Apart from good sanitation practices, ensure the place is clean and tidy inside and out. Regular cleaning, proper food storage, and sealing any pest-entry points are some measures you can take. Consider hiring an exterminator service for pest control purposes.
Restaurants, big or small, must comply with health and safety standards; this includes keeping pests away. Health and safety inspectors make random visits to eateries to check for compliance. Places that don't comply with the standards can face legal action, fines, or even closure.
Maintain Your Parking Lot
Customers will arrive at your restaurant in their vehicles. You must have a well-maintained parking lot for customers to park safely and conveniently while dining at your restaurant.
While this can be an issue, especially with the limited parking in small towns, customers wouldn't prefer parking their cars on the street or in less secure areas. How to make a small town restaurant successful with a decent parking lot?
When you provide a sufficiently spacious and well-maintained parking lot, it will attract more customers. Imagine a new, potential customer driving by your restaurant while hunting for a place to dine. If they see a clean and organized parking lot, they'll want to park there and visit your restaurant.
However, if your parking lot is littered, has potholes, or lacks organized parking spaces, it's likely to give a negative impression. That's not all; a poorly maintained parking lot is also a safety hazard for customers. Someone could trip and fall on debris or uneven pavement, causing injuries.
So, maintaining a parking lot, while essential, will also require regular maintenance. Invest in parking lot repairs when you see the need for them.
Build a Workforce
A good and efficient workforce forms the backbone of any business. So, how to make a small town restaurant successful? You'll need a well-trained workforce – Chefs, servers or attendants, cleaners, and a good manager.
All this manifests in the form of customer satisfaction. You can streamline restaurant operations with a good workforce, resulting in faster service and increased efficiency.
When you hire a workforce, there could be high turnover rates for their training. But, when you hire a good crew, you can reduce these turnover rates.
Don't forget, though; you want to keep your workforce happy, too – that means a positive and healthy work environment, fair compensation, and opportunities to advance.
Update Your Kitchen
The kitchen is like the heart of your restaurant, where all the food is prepared from scratch. Apart from designing the kitchen layout to maximize movement, coordination, and efficiency, you must also consider the equipment. How to make a small town restaurant successful by updating your kitchen?
Modern kitchen appliances and equipment, specially designed for restaurant use, help maximize the productivity of chefs and kitchen staff. The faster the food is prepared, the fewer time customers must wait for the food they ordered. Overall, improved efficiency translates to faster service and happier customers.
With more advanced cooking equipment and techniques, your chefs can also come up with exciting new dishes. Your returning customers will be delighted with new choices, which will also help attract new customers.
While purchasing good quality equipment might seem heavy on your pockets, you'll be able to recover the costs in the long run.
Where there's a kitchen, there's the need for water for cooking and washing purposes. However, a single faucet point might not suffice for the varied needs if your restaurant's kitchen is on the bigger side. You can contact local plumbers to change the plumbing and provide more water outlets.
Go for some kitchen makeovers; it may require a significant upfront investment. But you've got to do it to make your restaurant thrive in the competitive market.
Spread the Word About Your Business
Whether your small-town restaurant has been around for a while or you're newly opening one, marketing is essential for any business to succeed. You can't rely only on word-of-mouth for people to know about your restaurant. How to make a small town restaurant successful by spreading the word?
It's essential to build a brand reputation in the local community. Most people check online reviews to decide whether a restaurant is good or bad. With excellent customer service and delicious food, your happy customers will provide good reviews.
Ideally, you should spend 1-2% of your revenues on online and offline marketing. In this digital age, your restaurant can benefit tremendously from social presence and digital marketing.
That's not to say you mustn't do it old-style. Have eye-catching, custom business cards printed. You can use these for marketing too.
However, what's a better way to spread the word about your business than from your own mouth? Consider participating in food festivals that will bring in local and neighboring communities.
You could also run your ad in the local school program or create and post flyers with your menu. There's nothing like an in-person conversation to spread the word and boost business.
Get your restaurant listed on search engines – business pages and mapping services. Build a Google business profile that will connect your potential customers via Google Maps. Share eye-catching images of your delicious food on social media and add quotes to such images.
Additionally, building your own website is essential to put your restaurant business online. People visit websites to book tables to dine and also to check the restaurant's features and services. Ensure you create a user-friendly and attractive website design. Any customer visiting the website must be able to access any information they need about your restaurant. Whether it's contact information, menu, booking, or ordering details.
Arrange Vendors and Suppliers
Any restaurant needs vendors and suppliers for the basic supplies and smooth functioning of the restaurant. So, how to make a small town restaurant successful with suitable vendors and suppliers?
Keep your options open and have about two or three vendors in each category. You can compare prices and go with what is suitable for you. And in the rare chance you run into some problem with one of the vendors, you'll always have a backup.
As far as keeping inventory in your restaurant's kitchen goes, it's always best to have two days' worth of stock to be prepared for any emergencies.
Have all the items delivered fresh and in the mornings. Don't forget to perform quantity and quality checks at the time of closing.
Try to maintain long-term contracts with your vendors; it'll help maintain the consistency of the raw materials.
Invest in the Right Technology
Often an overlooked element, restaurant technology is a crucial part of managing smooth-running operations. Modern technology has an abundance of features that you can integrate with a robust Point-of-Service (POS). How to make a small town restaurant successful with the right technology?
It helps streamline the restaurant's operations efficiently. With multiple features like online reservations, on-call reservations, home deliveries, and standard billing, efficient technology is the need of the hour for businesses.
Install Safety Features
There's no denying that a restaurant is as good as its food and service. But then, you mustn't forget about the safety of your employees and customers. How to make a small town restaurant successful by installing safety features?
Installing safety features is essential, especially for small-town restaurants. Emergency exits, sprinkler systems, and fire alarms will keep your customers and employees safe in the event of an emergency.
Besides, there are some safety regulations that restaurant owners must meet. By complying with these regulations, you'll be safe from any fines or penalties from safety inspectors. It's also your way of showing that you're committed to the well-being of your employees.
With safety features, you can also reduce your liabilities and protect your assets.
As far as basic security features go, hire a commercial locksmith service to install a good and secure way of locking up after hours. Also, consider getting some safes to store your valuables.
Final Thoughts
As you would've figured out, the answer to the question, 'How to make a small town restaurant successful,' is not simple. There are a lot of elements and considerable planning that go into success.
However, there's no need to be overwhelmed. Every business must take care of these factors to ensure they survive in the long run and attract more customers.
It's essential to stay up-to-date with the current trends and continually adapt to changing customer needs.
Build a strong brand reputation, aim to provide excellent customer service, don't hold back on marketing and advertising, and build relationships with the local community. You're bound to see long-term success.
Please follow and like us: