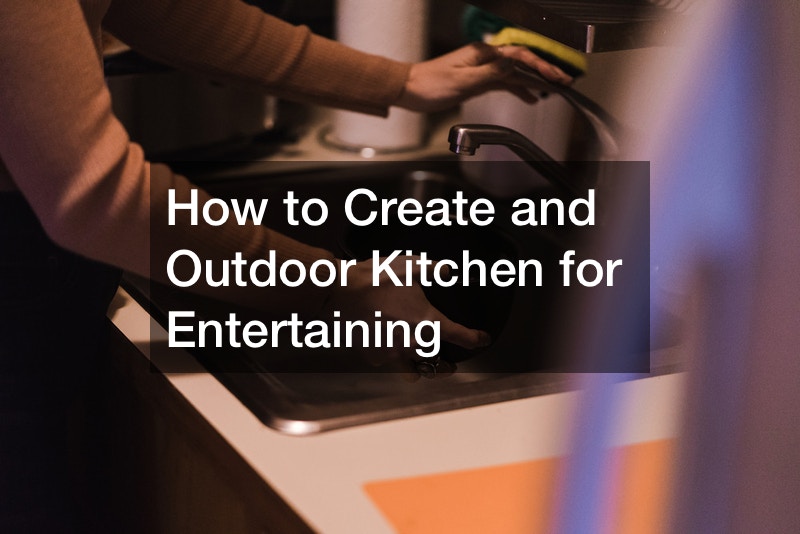 Life offers many great experiences. One of the exciting and happy experiences is dining and spending quality time with the family. Seeing everyone's smiling faces as the warm buzz of voices fills the air in laughter and chatting. But, it always seems food and the kitchen, which we know is surely the heart of any home that brings the family together. What if you could get a step closer to some of the unique outdoor kitchens and designs to spruce up your home? Outdoor bar kitchen areas, aka outdoor kitchens, are some of the most exciting places to be.
Plotting your outdoor kitchen plans through some fantastic inspirational ideas
Where do you begin your guest for an amazing kitchen based in the breezy, sunny, and sometimes rain-filled outdoors? We want to help you out with some spectacular ideas that you can't afford to miss.
Outdoor bar kitchen areas can seem intimidating if you've only ever seen it in splashy posh home design magazines. Guess what? You can have a beautiful glass patio enclosure and create an entertaining outdoor kitchen experience suited to your home.
There are some questions to ask yourself before embarking on your project.
Are the finances enough?
To create an outdoor kitchen setting, you don't need to break the bank. There are many efficient and affordable ways to get the proper setup for your entertainment space at home. Some affordable options include creating a built-in barbecue setup. Add a table and chairs and the family and friends are ready to dine and enjoy themselves. Some people want a simple rustic pizza oven to bring everyone together to eat alfresco-style.
Who will help you build or DIY?
There are many DIY videos online to help you build some simple structures. For example, setting up a hand washing station would probably call for the help of a trusted plumber. If you know someone who can help you get the job done, then call them.
There is also some straightforward stuff that you can pretty much do yourself. You could cover certain surface tops outside with an epoxy floor coating. This will help preserve the floors throughout the weather changes in your area. Epoxy is also great for outdoor countertops and certain concrete finishes.
Is your outdoor kitchen okay for the weather changes?
It's easy to forget about planning for winter when summers are warm and delightful and most of all inviting. But simple additions like creating a sliding or folding door exciting to the entertainment area are perfect.
You'll be able to alternate between outdoors and indoors. By opening or shutting off the area. When you set up your place for entertainment all year, come rain or shine, there's no excuse not to cook.
What will the layout be?
It all comes down to how much space you have outside. Space is the ultimate factor and consideration for planning your outdoor kitchen. Suppose your space is small; no worries. There are many innovative and stunning outdoor eating and cooking options for you to decide on.
Consider how you'll use the space to make it functional for its purpose. Some people prefer an L-shaped-designed kitchen. Others will have a central section where the grill forms center stage and the seating built around it. Either way, work with what you have, budget, and innovative ideas.
Lights for nightly festivities
Having your friends and family over doesn't only have to be during the daytime. A nice evening alfresco dinner is the perfect game-changer. But to get this right, you need to see what you're doing, and that's where lights come into play.
Will you trim the trees with fairy lights? This is a lovely addition to the décor of your space outside, but it can't serve as the primary source of light.
Heaters for colder days
On winter or colder days, it's a great idea to invest in an outdoor heater. There are beautiful ones to select from, and they have prices to suit all budgets. However, if that isn't an option, then a fire pit is impressive, and again, the heat from the fire can also help warm things up outside.
Overall look and feel of the bar and kitchen outside
Some people like the classic kitchen look. Sometimes this classic look could mimic that of the actual kitchen inside the house. Other folks enjoy the rustic appearance of raw materials, repurposed items, and simply, that care-free essence.
Whatever look you decide on, it will be the one that is perfect for your needs, and best of all, you could add a signature flair to it.
Repurpose old items and structures
It doesn't get better than repurposing used materials. This is not only good for the environment, but you can save some dollars by doing so. There are many items to choose from, but we want to highlight a few and mention what you could use them for.
Use a silo
Do you have an old silo just hanging about in your backyard and possibly neglected by the weather? Have you thought of throwing it out but have never gotten round to it? Please don't throw it out. A silo is an excellent item for an outdoor kitchen. Maybe you don't have a silo, but your backyard is big enough for one. Make it work in your favor.
Due to its enclosed structure, you could modify it by cutting through a section to create an access point. You can use this for serving drinks and BBQ during a party outside. Your silo can get a coating to protect it from rusting and you're good. It's a fun way to make it exciting while entertaining your guests.
Use treated wood for furniture
Wood is so accessible and versatile. You could have your outdoor furniture custom-made for your entertaining outdoor goals. Using old wood is also an affordable option instead of paying for brand new it.
Get a local sign shop
Do you know of anyone throwing out their "open/closed" sign? Ask them if you could have it. You could also use quirky signage that maybe has something to say about the bar or why dining outside is great. You can even make your own with the extra wood and some paint, or buy one from a local sign shop.
Use that old salvaged sink to make a bar
Every bar needs ice and cold storage. A kitchen or bathroom sink can work nicely to get the job done. Filling up the sink with ice will serve as cool storage for drinks. You can add additional food boxes and other storage crates to store bottles and glassware.
Pallets are multifunctional
Used pallets are ideal for many things. You can use it for furniture, workstations, storage, and more. They are very affordable and easy to take apart and recreate.
Repurpose a riding lawn mower
A riding lawn mower can be repurposed into generators. This is handy for keeping small appliances up and running with power. If you don't have extra electrical extensions and outputs the generator could work wonders for your entertaining outdoor needs.
Luxury doesn't have to be expensive
Outdoor bar kitchen areas give you the liberty of really getting creative without having to spend too much. Compared to renovating and setting up on the inside of the home, the outdoors has fewer factors to consider. For example, you don't have to worry about walls, plumbing, ceilings, or doors adding to the costs. It's free and open and accessible to workaround.
Use natural stone
You can use stone as this makes a beautiful addition to your entertainment area outside. Natural stone is a beautiful medium that is easy to incorporate. Whether the key feature is the pizza oven or the fire pit, you can create a magnificent place that everyone will enjoy.
Dining table and seating areas
Using something as simple as building a picnic table is functional enough for your guests to be comfortable while they dine. Some people may prefer a lounge-like setting that may cost a bit more, but if your budget allows it, why not?
Add more cushions and poufs to your outdoor space, because as the day progresses some folks may even enjoy sitting on pillows and relaxing. What's more is, the kids would love it too.
An outdoor bar cart
Outdoor bar kitchen areas are an entertainer's delight. Using a food cart or trolley is perfect for your bar cart. If you remove the front wheels, it will be a sturdy work setup where drinks are prepared on the lawn or deck outside.
Use an awning for affordable shelter
If you don't want the sun baking down on you and your guests, then this will make an affordable alternative to a shaded area. The awning feature can also double as shelter from some rain.
Make it even more homely with a chalkboard backsplash
A backsplash is a nice feature to have in the kitchen. If your Outdoor bar kitchen areas can accommodate this, then go for it. You can use it to jot your to-do list or even create an exciting menu that serves up what you've prepped for the guests. This is innovative.
Last but not least, and this should probably make the top of this article. Still, when it comes to outdoor bars, kitchens, and entertaining, these factors are super important:
Efficient storage and workstations
Outdoor bar kitchen areas need wash stations and cooking areas and these are some of the main points that sell an outdoor dining and entertaining area. If you're limited to space, don't sweat it. You can get some wicker food boxes from nearly any homeware store. Even old drawers can be repurposed as storage.
If you want something more durable, you could have some wooden ones built. These can help with the storage needs of non-perishable food items. It makes it easy to have everything at hand without having to go back and forth to the main house's kitchen.
If you don't want to store everything all week long in those food boxes, get it stocked a few hours before the guests arrive. Your countertops can be as simple as concrete blocks strategically set up to form your kitchen workspaces.
Cooking equipment
If you're not using wood, then a propane barbecue grill is a good option for cooking. See which one works for your household needs. Also, make sure that if it is propane, you have enough to keep food sizzling and those visitor's bellies full.
Refrigeration and ice
Cold storage options may not be easy for everyone because not all outdoor bar kitchen areas have electrical outlets. The good news is that you don't need something permanent. A camping refrigerator or even an ice maker can help chill things that need chilling. Portable items might be smaller but they get the job done.
The loo outside for larger spaces and budgets
For a septic install, you may want to call your local plumber for a professional installation service. After all, who wants to move far away from the "lively" action in search of a bathroom? Use the one installed outside. And no, we don't mean a porta-potty.
Why you should have an Outdoor bar kitchen areas
Outdoor bars and kitchens add value to your property. You're able to enjoy the company of family and the lovely fresh outdoor air. It improves your home's aesthetics and adds a special touch to the property.
Plan before you begin. This will help you to get everything organized, even if just jotted down as notes. You may not even need to buy everything new, so you can save and still be spoilt for choice. These areas provide a venue for great family fun all year round. If you have a child that is engaged, this can even serve as the perfect location for a small family-only wedding venue.
If you haven't thought about outdoor entertainment, we hope this post gives you that exciting boost to up your entertainment game.
Please follow and like us: