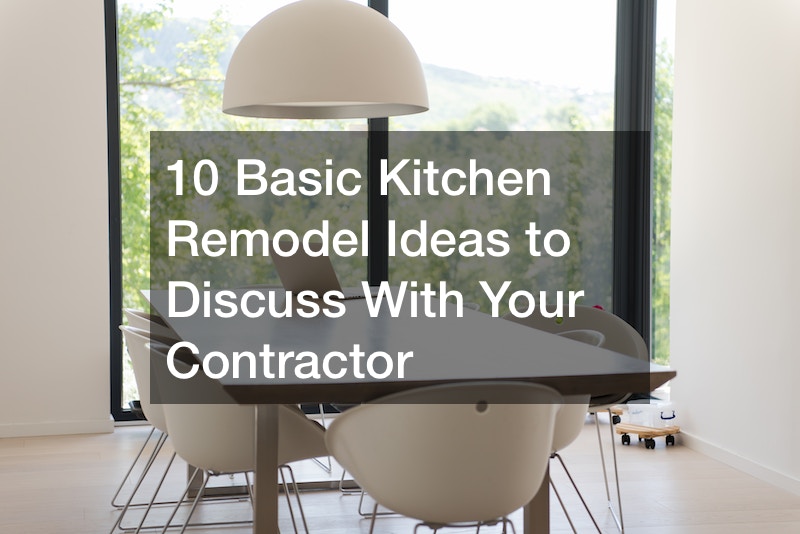 Kitchen remodeling ideas can sometimes seem like a drawn-out process. There are many ingredients to consider, including hardware, cabinets, faucets, tile, and countertops. When looking into kitchen remodel ideas, the best thing you can do is get your contractor involved in the decision-making process.
Here are basic kitchen remodel ideas you can discuss with your contractor to make decisions together. It'll help you avoid regretting an unplanned purchase or home improvement project.
1. Consider Size and Design
The size and design are among the basic kitchen remodel ideas to discuss with your contractor. If you have a small space, there are plenty of ideas for you to use. If you have a small kitchen, which often occurs in condos or apartments, take advantage of vertical space by adding shelves for display or pantries for food storage. The peninsula is an excellent way to give the illusion that your kitchen is more extensive than it is.
Another idea is to have a countertop with storage underneath and utilize cabinetry as a wall decoration instead of cabinetry that provides storage. A galley-style layout might be better if this is a small space. Discuss these kitchen remodeling options and decide what works best before starting construction.
If you have a big kitchen with plenty of space to work with, use the entire area to your advantage. For instance, if you have a large countertop, add more preparation space by installing additional cabinets and drawers under it. You can also use this space as an eating area. The hanging pot rack is another excellent feature if you have the space.
2. Decide on Appliance Types and Locations
The type of appliances to buy and where to place them is among the basic kitchen remodel ideas to discuss with the contractor. There are many choices, including stainless steel, black, white, or funky colors like red. Or all stainless steel with a contrasting sink for a bold modern look. Ask about energy efficiency and how the appliances will work with each other. Going with an eco-friendly option is always nice too.
You might be choosing appliances that will be the cornerstone of your kitchen. You might want to consult with a contractor about the placement of your appliances. These are essential things to discuss with the contractor and will also help you and the contractor create kitchen ideas that are perfect for you and your budget.
Gas has low energy costs, but your kitchen may need a lot of ventilation so gas appliances can be adequately vented. Electric can be placed anywhere, but you have to install wiring, and it is harder to find an electrical box in your home.
If you're going electric, there are several places throughout the home where the appliance should go, such as near a receptacle and within easy reach of water faucets or garbage disposals. Place the oven or stove near the sink for easy access to cleaning it.
If you need to hire plumbers, electricians, or other professionals, you want them to be able to get to the appliance quickly. And if you have more countertop space available, don't limit yourself by placing an appliance too close to a wall or at the far end of your kitchen.
3. Don't Forget the Finishing Touches
When considering the basic kitchen remodel ideas to discuss with a contractor, the finishing touches should not be left out. Finishing touches often become essential because a contractor may use them to make the project look more impressive. You can discuss ways to increase kitchen storage, home window repair, and add light fixtures.
You don't have to be an expert on finishing touches to have a successful remodeling process with your contractor. You should discuss the areas you want to be done with your contractor and get the changes done.
There are many closing in a crawl space ideas that you can discuss with your contractor. The walls, floors, and ceilings must be treated when this's completed. It can be hazardous and needs to be performed by an experienced person. You may want a professional with experience if many steps are involved in closing the crawl space.
4. Increase Cabinet Space
Increasing cabinet space is among the basic kitchen remodel ideas to discuss with your contractor. Sometimes, removing the walls and replacing them with a new open floor plan design that allows for more storage is straightforward. But other times, you may find you can't find anywhere to put your cabinets. In that case, you might have to reconfigure the layout or install kitchen counters instead of cabinets so that you can utilize all virtual space.
Add new cabinets to your kitchen by removing walls and expanding into unused spaces like closets or pantries. Be sure to consider the weight of your cabinets when deciding on a design. It'll maximize your storage space and make your kitchen more usable.
Front-facing, wall-mounted cabinets are more stable than floor-level ones that can tip over if you aren't careful when opening them. Overhead cabinets may be blocked by plumbing or electrical wires. Choose carefully and discuss your concerns with custom cabinet companies. With these options available, speaking with an experienced contractor before making any changes is crucial to avoid costly mistakes and frustrations later on.
5. Adding More Counter Space
Adding counter space is among the basic kitchen remodel ideas to discuss with your contractor. Knowing what space you want to use for the kitchen is essential, as well as deciding whether you should get a custom design or something more traditional.
A counter is one of the most critical aspects of the decoration in your kitchen, so remembering this when planning how to re-create the space can be very beneficial. The good news is that this doesn't need to be an overwhelming task; it should just take time and effort.
A custom design might be excellent if you're looking for something a little different or even something unique for the market. While this can be very rewarding, creating a custom kitchen entails dealing with metal work contractors who might not be licensed professionals. Some contractors work out well and provide what you want, but some do not and can cause more frustration than expected.
6. Replace Outdated Appliances
Replacing outdated appliances is among the basic kitchen remodel ideas to discuss with your contractor. It's far from a challenging renovation project, yet it is essential to consider how your appliances are currently working.
Refrigerators are the most significant appliances to deal with in kitchen renovation. If your home doesn't have air conditioning, this will considerably lessen the money you will need to spend on a new refrigerator. If your home has modern air conditioning systems installed, you must thoroughly consider them before deciding on a new fridge. Changes made within the unit, including some non-essential items, may be reason enough for replacing an old fridge.
When considering appliances that are desirable but old and dated, gas stoves can be a great option. These stoves are exceedingly functional, and their design is not out-of-date, though they may need new pans or other parts. You'll have to consider them separately if a new stove is desired, in addition to an updated refrigerator and dishwasher. It'll help if you also got a reliable propane delivery agent when replacing the stoves.
7. Update the Lighting
Updating the lighting features is among the basic kitchen remodel ideas you need to discuss with your contractor. Poor lighting can ruin a kitchen. Kitchens need many different types of lighting, but one thing you'll want to upgrade is the overhead fluorescent and recessed light fixtures.
It'll help if you consider adding radiant cove or under-cabinet lights when cooking or working at the counter. Adding an amber pebbled glass light hood with a dimmer switch to add more mood lighting can improve the overall ambiance in the room.
New lighting in your kitchen can make it feel larger, brighter, and more welcoming. You can provide new lighting with a surface-mounted track light in the ceiling, recessed lights in the kitchen, or new lights installed under cabinets. You can also add low-energy bulbs that don't grow as hot and brighten your kitchen. Opening blinds during the day can also add natural light to your cooking space.
8. Add a Backsplash
One of the effortless ways to upgrade your kitchen is to add a decorative backsplash behind your range, sink, or other workstations. Backsplashes are usually inexpensive since they are made of less expensive materials like tile or wood paneling and add style to any room.
It'd be best to discuss basic kitchen remodel ideas, such as backsplash tile installation, with your contractor. Backsplash tile is installed on the wall behind your stove or sink. It comprises small pieces that fit together or are set on top of one another. You can choose tile patterns with straightforward squares or rectangles or incorporate other motifs such as small circles, diamonds, hearts, triangles, and even leaves. You can even choose a combination of different tiles or concrete pieces to create a mosaic effect that's different from anything else in your home.
You can install it behind appliances, in corners, or a pattern on the ceiling. Glass is one of the best types of tile for reflecting light and can be very beautiful. You might also want to use a glass tile backsplash. When choosing a backsplash, remember that some tiles are more difficult to clean than others, so you want to find a mosaic tile that is easy to wipe down if you have children and pets. You may consider stainless steel or even copper tiles for your backsplash if your kitchen has an industrial feel or if you might want to bring some of those elements into other rooms in your home.
9. Upgrade Your Kitchen Faucet
Upgrading your kitchen faucet is among the basic kitchen remodel ideas to discuss with your contractors. Many homeowners find that the faucets in their kitchen are too old to be safe and are looking for new faucets that use less water, do not make as much noise, and can be installed with a simple tool.
Beyond just the kitchen sink, it's a vital component of your home's plumbing. It can aid in septic cleanliness and hygiene. An up-to-date faucet also helps cook and clean more efficiently, with less water wasted and more time saved.
A new faucet may be tempting enough to put off until a remodel, but if you wait too long, it could become harder to change. The old faucet could corrode and stop functioning as your kitchen projects continue. At this point, it's easier to replace the faucet once and for all. Many styles are available for purchase, but these can also be found in one's kitchen remodeling contractor's cabinet.
10. Install New Countertops
Installing new countertops is among the basic kitchen remodel ideas to discuss with your contractor. The first step is to conduct a bit of research. Just go on the web and do some online shopping. You can also visit your local hardware supply store or kitchen showroom, which may have samples you can touch and test out.
If you've got an idea of what countertop material you want, bring that photo with you and compare it to what samples are available at the store or showroom. Some popular materials include granite, quartz, laminates, and solid surface material. In reality, hundreds of countertop options exist, so take your time researching them all.
Countertops are constantly evolving, but one of the most fundamental changes people make is upgrading from cheap laminate or solid surface counters to stoneware, porcelain, or quartz countertop. These newer materials have a more durable surface, are more resistant to stains and spills, and last significantly longer than other counter models. Once you remodel your kitchen, ensure to hire a reliable trash removal service to get rid of the waste.
It's essential to discuss basic kitchen remodel ideas with your contractor. The best idea for kitchen remodels is to incorporate things you want from the start. Consider the modifications you're willing to make and how much time and money you'll invest in your renovation. Collaborate with a contractor on your project, suggesting your preferences and adding new ones as they arise.
Please follow and like us: