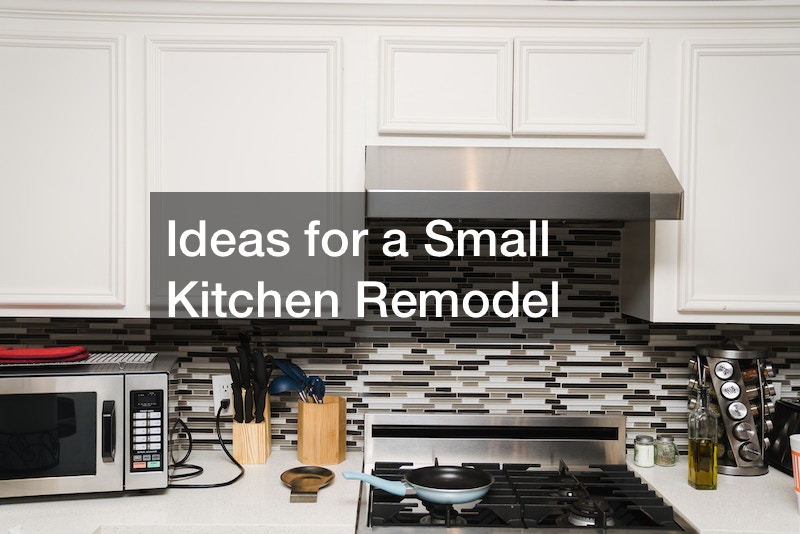 If you've been wondering what to do for your small kitchen remodel, you're in the right place. We understand that designing an attractive and functional kitchen can be challenging, especially with limited space. That's where ideas for a small kitchen remodel come in handy. Walking into a lighter, brighter space can quickly improve your mood, but being crammed into a small, gloomy area can make you feel low. With the right ideas for a small kitchen remodel, even the smallest kitchen can feel roomy. Here is a list of 23 great ideas for small kitchen remodel.
1. Get Rid of Some of the Cabinets
If your kitchen is cramped, consider getting rid of some or all of your upper cabinets. This approach will open up the visual space of your kitchen, making it feel and look larger than it actually is. Small kitchens require plenty of light. Upper cabinets may cast a shadow over your counters, making your workspace appear darker and cramped. Eliminating or reducing them can significantly open up your space. You can also visually heighten your kitchen by extending tiles from the backsplash to the ceiling.
If you're concerned that eliminating upper cabinets would reduce the amount of storage at your disposal, consider installing a hardworking island if you have room, or work with a design expert to maximize your bottom cabinet storage with drawers, pullouts, and other high-functioning installations.
2. Open Shelves
Open shelving is one of the best ideas for a small kitchen remodel. To implement this idea, make sure your shelves have a minimum depth of 10 inches. This way, your shelving can handle the dinner plates and other broad items without breaking a sweat. Open shelves offer the flexibility to change your décor with the seasons to achieve dynamic focal points that keep your kitchen looking fresh. Going with the same shade for your walls and shelves makes them blend in, giving the room a light, airy feel. This approach highlights your elegant dishes and decorative items. However, keep in mind that open shelves require a little bit more organization and regular cleaning.
3. Invisible Hardware
While it may not seem apparent, protruding cabinet pulls and knobs take up a significant amount of physical and visual space. Cabinets in a 'handleless' kitchen feature a touch latch or lip. This kitchen design produces a seamless look with minimal visual interruptions, which is great for small kitchens that need to feel more open. Eliminating pulls or knobs from your design adds a bit of physical space and makes your small kitchen look and feel spacious. With this setup, moving around your kitchen without bumping your hip or snagging your clothes is possible.
4. Pattern
Incorporating a dramatic design element, such as a striking pattern, can mask your little space's square footage by giving it a big personality. When using patterns, a little can go a long way. Incorporating dramatic patterns is generally considered ideal for small kitchens rather than huge ones. This is because a small section creatively patterned delivers the perfect amount of flare. Dramatic patterns in large kitchens are likely to overwhelm the space.
Kitchen flooring is often overlooked during kitchen remodels, but it's ideal for creating a high-impact design feature. Having new floors installed is one of the best ideas for a small kitchen remodel. A floor with patterns creates the illusion of more space while adding a classic look. Using diagonal patterns makes your space appear larger. You should also consider options such as hardwood flooring or an epoxy floor. If you're on a tight budget, consider polishing by a professional concrete floor polisher.
6. Organize Your Cabinets
Maintaining a high level of organization is important in small kitchens. When you're working with limited space, you can't afford to waste any of it, not even the concealed spaces inside your cabinets. Stock up on spice-sorting systems, lid organizers, risers, and other things that will maximize your kitchen storage.
7. Disguise Your Dishwasher
When you're working with limited kitchen cabinetry, a dishwasher takes up the majority of the kitchen space. Install your dishwasher so it fits seamlessly below your kitchen counters for a streamlined, clean design.
8. Add a Pegboard Wall
Consider painting a pegboard in your favorite shade for a functional focal point. Once it's fastened, fill it with your cast iron skillets, wooden spoons, measuring cups, and other essential kitchen items.
9. Increase Kitchen Corner Space
Small kitchen layouts, which are common in older homes, are famous for their peculiar nooks and crannies. Using these unusual spaces maximizes storage space for your small kitchen. Use every inch of space by installing open shelves in alcoves or installing cookers and cabinets in unused fireplaces to go with your preferred stove backsplash ideas.
To keep your kitchen feeling bright, pair it with white stone worktops and neutral cabinets. Make the most of the space you have by using every nook and cranny. You might be able to convert a little crevice or awkward nook into more room, fitted with cabinets and drawers. Contract professional kitchen cabinet designers for the best results.
10. Adopt a Vertical Design
The popularity of open-plan kitchen-living areas has led to the increased adoption of smaller kitchens in favor of larger gathering areas. Note that tidiness is important in an open-plan kitchen design. In contrast to traditional kitchen designs, where you can close the door after cooking, open-plan kitchen designs keep everything on display, necessitating the need for storage. Since small kitchens often make up for their lack of floor space with height, adopting a vertical design is recommended. In addition to offering more storage, full-height cabinets add a sophisticated design that clearly divides a kitchen within the open-plan design.
11. Use Color
Painting your kitchen a different color is one of the best ideas for a small kitchen remodel. It's a cost-effective and straightforward way of making a room appear larger. White is the ideal color for visually opening up your small kitchen. Yellow can create a warm, cheerful kitchen that gives off a country vibe, even when used in the middle of the city. The color green represents the natural environment and tranquility. Teal and pale green are examples of fashionable hues that look great as accents in a white kitchen. Add some flower arrangements or delicate green plants to complement this effect.
12. Add Mirrors
It's a well-known fact that mirrors create the illusion of more space. Still, most people only use them in the bathroom or bedroom and never consider using them in the kitchen. When reflecting back on a kitchen countertop or table flush against it, a super-sized mirror spanning one wall can be remarkable. You can also incorporate mirrored cupboards or splashbacks for the same effect.
13. Choose a Single Sink
Small kitchens need the right sink. Profit from the popularity of single butler sinks. Instead of purchasing a double sink that will take up most of the work surface and make your kitchen appear smaller, add a single butler sink instead. Single butler sinks are ideal for a small kitchen since they provide enough depth for your pots and pans yet take up little room. Another advantage is that you can quickly conceal any clutter or dirty dishes in the sink if a last-minute visitor is approaching.
14. Opt for a Compact Dishwasher
Compact dishwashers are ideal for small households with small kitchens as they take up minimal space. Compact dishwashers are 150mm narrower than normal dishwashers (600mm wide), which makes a significant difference in a small kitchen. Adding a compact dishwasher is one of the best ideas for a small kitchen remodel.
15. Add a Slimline Fridge
A slimline fridge is one of the best ideas for a small kitchen remodel. Slimline refrigerators are excellent for small households. However, you might have to start shopping more frequently, but it will only be fresher as a result. Keep in mind that certain foods like bread, vegetables, and eggs can be preserved without a refrigerator.
16. Consider Integrated Appliances
With the same door front as the rest of the kitchen, integrated appliances complement the decor of your kitchen. While a visitor may have to open many cabinets before finding your refrigerator, the kitchen will look streamlined and appear larger than it would with a jumble of various models. Adding integrated appliances is one of the best ideas for a small kitchen remodel.
17. Add Cabinet Lighting
Cabinet lighting is one of the best ideas for a small kitchen remodel. Lighting plays a key role in making a kitchen look and feel larger. The more light you use, the larger your kitchen will appear. If possible, install skylights or glass doors to let in more natural light, which will instantly make your kitchen feel larger. You can also install lighting at the base of floor units or beneath wall cabinets. Avoid using a lampshade that cuts down on the light. Spotlights provide the best lighting.
18. Get Rid of a Wall
If you can get rid of an internal kitchen wall to open up the room and give it a natural extension, do it. If you're hesitant about losing the functionality offered by a wall, knock down half of the wall and use the other half to create a breakfast bar fitted with a work table and some stools. You can also use a low half-wall as shelving. Knocking down a wall may seem extreme, but it's one of the best ideas for a small kitchen remodel.
19. Minimize Personal Touches
Personal touches in the kitchen showcase your individuality and make the room feel like home. However, those novelty tourist magnets affixed to the fridge, kid-made paintings, and trinket pots will make a small kitchen look crowded and cramped.
20. Consider White Cabinetry
White kitchen ideas are considered the most effective in making a space look and feel bigger and brighter. Despite the fact that bolder hues have recently become increasingly common in kitchens, white has withstood the test of time. It bounces light off of itself and offers countless customization options. Consider using different white backsplashes, countertop materials, and other accents to introduce a variety of textures and colors to the design and bring warmth and interest.
The good thing with white is that it blends well with both classic and distinctive designs, as well as sleek and contemporary ones. It serves as a blank slate for the rest of your space. This gives you room to employ accent colors, meaning that if bright colors aren't your thing, you can keep your kitchen's color scheme simple or use accent tones to liven it up. White cabinetry is one of the best ideas for a small kitchen remodel.
21. Use All Kitchen Storage Options
It's important to consider the function of each cabinet when planning a small kitchen design. Consider incorporating accessories to improve the kitchen's workflow and the interior organization of the cabinets. Make good use of the space behind doors as a hanging area, the bottom of shelves as a place for cup hooks, and every corner and high cabinet as potential storage space. Use often underutilized areas like cabinet kickboards—the space beneath cabinets that can be converted into concealed pullout drawers for items like baking trays—the space above doors, and the ceiling for creative storage spaces.
22. Use Artificial Lighting
Using artificial lighting is one of the best ideas for a small kitchen remodel. The right lighting design can make a small kitchen appear larger. A statement light shade makes a great addition to a kitchen design with a high ceiling. However, if your ceiling is low, avoid overcrowding the space with superfluous light fixtures. With compact kitchens, integrated lighting can save on design. Ceiling lighting is essential, but you shouldn't stop there. To give your prep area a soothing glow, place lights behind cabinets and as spotlights on your countertop. At the very least, consider task lighting. Adding accents and decorative lighting makes your small kitchen feel spacious and well-planned.
23. Schedule a Plumbing Inspection Before the Remodel
This is one of the best ideas for a small kitchen remodel. Plan a pre-remodel plumbing assessment with a professional to make sure your kitchen's plumbing won't cause issues during the remodel. A pre-remodel plumbing inspection allows your expert to detect possible concerns and come up with a strategy to stop problems that could delay your kitchen remodel. Such problems include the presence of mold and mildew, the need for water heater repair, or drainage issues. Besides water heater repairs, the technician may recommend a water treatment system.
A small kitchen may have limiting design options. However, that doesn't have to be the case. Use these ideas for a small kitchen remodel in your upcoming project and watch how well it comes together. While there's nothing you can do to make the space larger, at least you can make it "feel" and "appear" larger.
Please follow and like us: