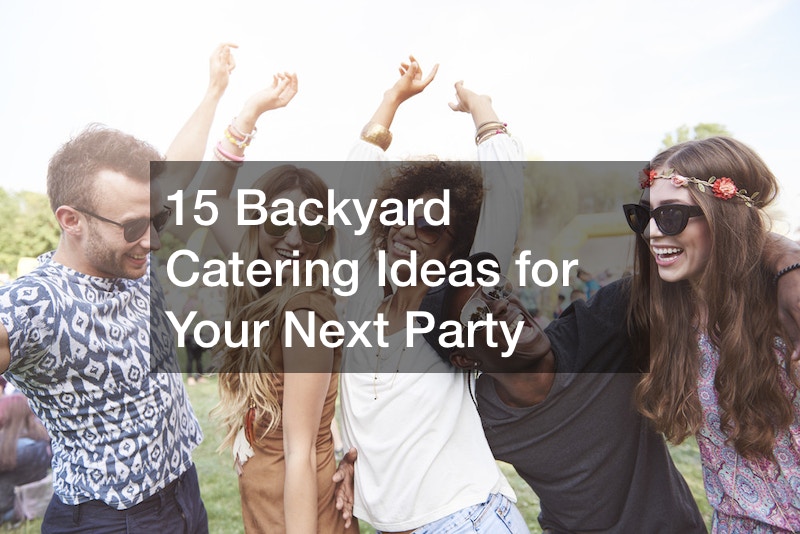 When it comes to backyard catering, the options are endless. Whether you're looking to keep it simple with some light bites or go all out with a full-blown barbecue, there's sure to be a catering option that suits your needs. You'll also be able to serve your guests delicious food at a fraction of the cost.
However, don't just assume that you can get away with throwing a few things on the grill. A backyard catering party requires a good amount of preparation and organization. Here are some backyard catering ideas for planning your backyard catering event:
1. Specialty Options
Asian fusions cuisine is a popular option for catering and breakfast services. This cuisine combines the best of both worlds, offering a variety of unique flavors and ingredients that are sure to please any palate. From traditional favorites like sushi and noodles to more modern dishes like Thai curries and Vietnamese pho, there's something for everyone to enjoy.
The Asian fusion food trend has been a favorite among food lovers and is quickly growing in popularity. Not only is it delicious, but it's also easy to prepare and can be made ahead of time. The versatility of this option allows you to tailor each menu to your specific needs while bringing the best of both worlds together flawlessly. This way, you can enjoy your party more and less time worrying about the food.
2. Classic Options
Regarding backyard catering ideas, nothing beats classic options like premium meat. You can't go wrong with a meaty main course, and there's nothing quite like a juicy steak or burger hot off the grill. However, if you're looking to spice things up a bit, plenty of other options are available. Whether you're planning a casual get-together or a more formal affair, serve a delicious spread of meats and let your guests choose their favorite.
And when preparing these classic options, there's no better option than a wood stove. This stove is ideal for preparing classic options like premium meat because it provides a consistent heat source that you can control to ensure that the meat is cooked perfectly. Additionally, the wood smoke imparts a simply unparalleled flavor.
So, if you're looking to throw the ultimate backyard party, include some classic options like premium meat, and prepare them on a wood stove for the best results.
3. In Case of Pets
Having a backyard party can be fun, but it can also be hard to think of the perfect idea. Giving your guests food and drinks is easy, but what about their pets? Why not include pet food in your next backyard party?
Including pet food at your next backyard party might seem like a crazy backyard catering idea, but it's an excellent way to show care and love for your friends' and neighbors' dogs. If you are thinking of a pet-friendly backyard party, find out what kind of food your guests prefer and what kind of cookies work best for their dogs. Also, if your guest has a dog that can be aggressive around other dogs, keep them separated. Some dogs like to try new things and have fun at backyard parties. So, if you see this kind of dog, take them away from their owners temporarily and give them a snack or two.
4. Extra Essentials
When hosting a backyard party, you must prepare the necessary items like chairs, ice cubes, and tablecloths! There is a reason why Ice Cubes are common in any backyard catering ideas list. You can use them in different ways. The most popular way is to fill a cooler with ice cubes and salts. Filling a cooler is an excellent method for chilling beers, but it takes a long time and a lot of effort to freeze the water to chill the drinks. A faster method is to utilize an Ice Bong. This device, which looks like an hourglass or bowling pin, utilizes ice cubes as the cooling agent instead of salt and water. They keep your drinks cold, keep your guests comfortable and add the necessary 'gliss' to any gathering. Their inclusion in the day-to-day backyard party is a necessity!
Chair Rentals Services can take a backyard party to another level. These rentals add fanciness, glamour, and style to any party. However, they must be sturdy enough to support your guests sitting on them. After all, the last thing you want is for someone to get hurt because of flimsy furniture! Enough seating will ensure everyone is comfortable at your party, regardless of what else they plan on doing.
5. Don't Forget to Decorate
The first step in making your party enjoyable and exciting is to decorate it! There are various ways you can decorate your backyard, each offering its unique effects and style. So, start with a theme for your party: realistic or fantastic? Neat or extravagant? You can also decide on the decoration scheme. You can decide to hang Christmas lights like a professional, string lights around the inside of your backyard, install lanai lights or adorn everything with festive and bright colors.
If you're looking for some more ideas, visit local crafts shops, stores that sell outdoor décors such as tree stands, lighting shops, and even indoor retailers that specialize in things like balloons. If you still can't find what you're looking for, try getting ideas from outdoor magazines and books. Usually, the more elaborate and prominent, the better — use your imagination. For example, if you're having a fantastic-themed party with a unicorn theme, have colorful, bold, and magical decorations.
6. Fresh and Fruity
Forget the cheap soda made with high fructose corn syrup; make some good healthy drinks for your BBQ party! Serve fruit juice or soda with slices of fresh fruit for your drinks. You could be creative with some of the fruits to accompany the drinks. For example, strawberries and pineapple would make a good combination. Or maybe you can use mint leaves with lemon and lime for the drinks. You can also try using fresh vegetables for your drinks. When evaluating different backyard catering ideas, you'll never go wrong with fresh and fruity.
7. Coffee Bar
The backyard catering ideas list isn't complete without a coffee bar. If your guests are all coffee lovers, you may want to serve some of the most popular coffee drinks. You can have them prepared in a glass to have the same experience as at a coffee bar. You can have a variety of coffees and teas on display so that people stay in their comfort zone. Some coffees are flavored with cinnamon, making the drink taste even better. Coffee is also perfect during the hot summer because it's rich in antioxidants. The best part about having your homemade version is that you can control what type of flavor you want to add on top of it.
8. Food Trucks
Food trucks are ubiquitous nowadays at fancy parties. Don't forget to add some food trucks to your backyard party. There are so many good ways you can do this. You can have the food trucks at the party and a buffet table outside so people can choose whatever they want from the food truck. Also, there are other possibilities for this, including having each person order their gourmet hot dog, hamburgers, and dog cookies and having them served by one of these food trucks. Your guests will love it!
9. Popcorn Bar
If you have kids coming to your backyard party, a popcorn bar is perfect for them, and they will enjoy it. You can serve popcorn with their favorite movie characters or cartoon characters on it. The idea is to have a variety of items that your kids will love, and they will be entertained by this when you have a party outside. Also, you can hire a popcorn maker to make the popcorn on-site and sell them at the party so that they would all have something to munch on while they're having fun.
There are so many gourmet popcorn flavors to have, so you can spend your time choosing the best one. You can also decide on the various flavorings that will bring out the most flavor in the popcorn. Don't forget to taste them beforehand, so you know how they taste.
10. Local Food
Good backyard catering ideas to add some local food for your guests. Many local restaurants serve the freshest local food at their restaurants, so why not add them to your backyard party? Who says you have to cook all the food yourself? You can plan with local restaurants so that they can cook your guests' favorites and bring them over to your place. In exchange for this, you can invite these restaurants to your party and give them free publicity. The best part about this is that you won't have to do all the work of cooking and entertaining, which frees you up for other activities with your guests or family.
11. Tapas
When thinking of the best backyard catering ideas, think of tapas. Tapas are small portions of different foods. They're usually in small dishes so that each person can try a taste of each dish. Try serving different tapas at your backyard party and see how they like it. For example, you can have a bruschetta bar where guests can choose which bruschetta they want to try with their cocktail.
12. Taco Bar
Consider having a taco bar if you're interested in making Mexican food at your backyard party. You can set the taco bar up before the guests arrive at your place or serve them at the party after everyone arrives. You'll be surprised how popular this would be among your guests, and it would get their appetites and satisfy their cravings for Mexican foods.
13. Craft Beer
Craft beer is a great way to serve beer at your backyard party. Wine bottles offer a neat way to serve beer at your party without filling your guests with carbonated water bottles. You can try serving the craft beer in an old wine bottle, which you can buy from any home improvement store. You can also plan with the local brewery so that they will come to your party and serve the craft beer right in the place. You can make it a contest to see who could guess which beer is in the bottle. You can also introduce your guests to new drinks they would love to try.
14. Cocktail Bar
Having different types of cocktails at your party is a good idea because it gives the guests a variety of things that they can try. Most importantly, your guests can satisfy their thirst with these cocktails and mixers while they're having fun in your backyard.
You can also have other drinks available for your guests during the party, such as beer and sodas, so they won't miss their favorite drinks if they choose not to drink the cocktail served at the party.
15. Hot Dog Cart
If you're looking for some easy food to serve at your backyard party, then hot dogs and barbecue are the best choices. A hot dog cart and dog cookies are also great backyard catering ideas because it's something that kids would love. You can have a hot dog cart at your party, choose what ingredients you want for the dogs, and have them made on-site. Also, you can choose where you want your guests to eat their hot dogs and make arrangements with them to serve them in those places. So this way the guests won't miss any part of your party while eating their lunch.
If you want people to enjoy their stay and have a memorable experience, you must ensure that you serve fantastic food at your backyard party. There are no strict rules regarding throwing a backyard BBQ party. Backyard parties can take different shapes or forms depending on the guests coming over or the theme planned for the day.
These backyard catering ideas will surely make your party an unforgettable one. Make sure you're doing this for a good cause because it would be disappointing if you don't get the response you expected from your guests. Try doing these ideas at the next party you're hosting and see how they turn out. You will be surprised how the guests would react to these backyard catering ideas, and it'll surely bring you closer to each other.
Please follow and like us: