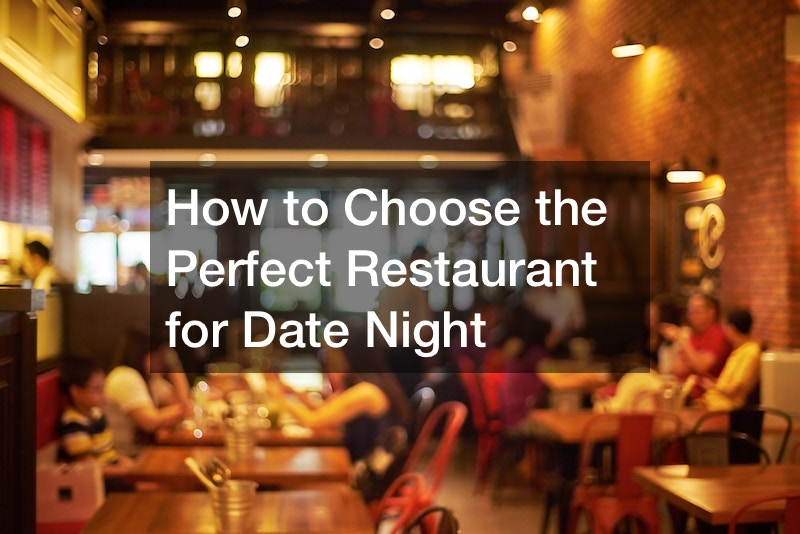 Date nights can be exciting, fun, and a great way to get to know someone better. If you're preparing for the perfect dinner date with your special person, you'll have to invest time, money, and effort to make it work. Perfect dates entail a lot of planning. It requires you to think thoroughly about the details.
Choosing the right venue is the first and most crucial step in planning a date night. A romantic restaurant is a great idea for a date night. It gives you and your partner a moment to relax and share some special time together. Take time to choose a venue that both you and your partner will not only find to be convenient, but also the perfect location for the date.
Knowing the options available to you and choosing the perfect restaurant is essential. But with hundreds of restaurants promising to give you the perfect date night experience, how do you filter the options and choose the perfect one? Keep reading.
Factors to Consider When Choosing A Perfect Restaurant for Date Night
There are several factors that come into play when choosing the right restaurant for your date. The following tips will help you choose the perfect restaurant for a date night.
Research About the Restaurant and Location
Researching the restaurant and location is very important to help avoid unnecessary surprises. Whether it's your first, second, or tenth time visiting the restaurant, it is vital to do simple research and get up to date with the operations of the place before taking your partner. There are several ways to do this.
User reviews – This is the easiest way to get a general idea of how people think about the restaurant. Take time to read negative and positive online reviews before deciding.
Ask around – If you have friends who work or are conversant with the restaurant, you can ask them what it's like to have a date in the place and whether they would recommend it.
Keep in mind that people have different ideas of what constitutes a great place. Try to be specific in your questions to get answers to the things that matter most to you and your partner.
Take a visit – Another great way to help you choose a cool date night restaurant is to experience it yourself. A simple visit to the restaurant a day before your big day will teach you a lot about the place, such as how the restaurant operates, crowding, or whether the staff is generally friendly. It's a great way to avoid looking lost or confused while with your date.
Ambiance Can Make or Break the Date
When it comes to cool date night restaurants, the ambiance is non-negotiable.
Ambiance refers to a place's atmosphere, character, or general mood. For a restaurant, ambiance covers the entire touch, from the color themes, lighting, decor, cleanliness, staff etiquette, flower garden, landscaping design, and music.
Electrical services for restaurants are essential to provide customers with charging ports in case you wish to use phones or laptops during the date.
According to World Happiness Report, "There is indeed evidence in psychology suggesting that being exposed to green, natural environments improves mental well-being. Mechanisms include a reduction in stress, a rise in positive emotions, cognitive restoration, and positive effects on self-regulation." A couple who love nature may find restaurants with green spaces or plant life to be more appealing
The findings suggest that an ambient restaurant is necessary for a happy date. The vibe you get from a restaurant is paramount to a successful night out. A wrong environment is a recipe for a failed feeling of mutual connection.
Remember, the main aim of a date night is to escape the pressures of everyday life and spend quality time with your partner. The seating arrangement should facilitate this. A romantic environment sets the mood for a joyous date night.
Granted, the last thing you want is an environment with poor lighting and a bad mood.
Learn What Your Date Prefers
Asking your date what restaurant they prefer is perhaps the easiest way to hack this. But is it the ideal option?
The truth is that no one wants to be blamed when expectations aren't met, so more often than not, your partner's response will be something like, "I don't know. Which is your cool date night restaurant?".
It could turn into a lengthy, frustrating conversation. Also, it takes out the magic of what makes a perfect date night: Surprise!
So, if you won't ask, how would you know?
Well, start with what you already know. Has your date ever mentioned food or restaurants they like? What do they hate? How about a place they'd love to try?
Your date's and their friends' social media come in handy. Information such as frequent check-ins. If, for instance, their regular check-ins are at a Chinese restaurant, consider narrowing your options to Chinese restaurants.
Type of Music Played in the Restaurant
Music is one of the best tools to ignite a romantic atmosphere during your date. Different restaurants play different types of music.
Most fast-food restaurants, for example, play energetic music because they want people to eat fast and leave.
Cafes and cool date night restaurants are just the opposite. For them, it is essential that guests stay longer, converse, and order several times. Relaxing music is key in these restaurants.
Also, some restaurants offer live music and feature international and local performers.
Whether live or recorded music, make sure the atmosphere is charged and conducive for a perfect date.
Privacy
Location, ambiance, and music are not enough. Privacy is also critical. You don't want a romantic date to include someone eavesdropping your conversation.
Video surveillance or hidden voice recorders are also privacy breaches that can ruin your date.
Presented with many options for cool date night restaurants, go for one that places weight on privacy.
Hygiene
Hygiene should be among the top factors when choosing a perfect restaurant for a date night. Good hygiene measures safeguard you from illnesses and diseases. Cool date night restaurants place importance on the following types of hygiene.
Personal hygiene – Restaurant staff and employees must be clean, embrace proper living habits, eat a healthy diet, take rest breaks, and exercise.
Food hygiene – To promote good health, restaurants must prepare and store food properly. Any food vending consumption must adhere to the set food hygiene practices.
Environmental Hygiene – An environmentally hygienic restaurant saves you from the nuisance of mosquitos, rodents, and flies — the worst combination for a date night. An ambient real estate with well-ventilated rooms will also save you the shame of sweating and discomfort.
Consider the Location
The location of the restaurant matters a lot. You want to avoid traveling for miles for something that is meant to relax you.
Besides, you want to go somewhere you and your partner feel comfortable. Therefore, trying a local and mutual restaurant that either of you has visited makes sense.
If this is the first time you have been there, do simple research and read online reviews so you will have a good understanding of the restaurant.
This is the point:
The distance to the restaurant should be convenient for both of you. Not far, and definitely not across the street.
A centrally located venue is better than one in the far corner of the city.
It should be an accessible and affordable place that's casual enough to help set the mood for a romantic date with your significant other.
Check the Menu/Cuisine
Food preferences can make or ruin a moment. It's crucial to understand the food that will excite your date at the restaurant. Cool date night restaurants focus on different cuisines, such as breakfast food, seafood, French, Japanese, Italian, Indian, Korean, and Chinese, among others.
You can find menus on restaurants' websites, social media pages, magazines, and banners.
How Is Their Service
Your date is more likely to trust you more if they are happy with the service they receive in cool date night restaurants. They'd enjoy spending more time with you.
When both of you are happy, that's a successful date. The opposite is also true.
You wouldn't want to spend such a special moment in a bad mood after having to ask four times for a drink.
Are you looking for a perfect restaurant for date night? Go for good service. Good customer service will definitely impress your special someone.
Make a Reservation
If it doesn't allow reservations, then it's not one of the cool date night restaurants. A perfect restaurant for a date night recommends reservation. And if your chosen restaurant does, make one as early as possible.
Otherwise, you might have to wait outside with your date for a table, and worse still, you may not get one. That awkward situation wears you down and reduces the excitement. Avoid it by making a reservation in advance.
Read Reviews
Reviews give you an idea of what you are getting into. While friends may provide the most precise opinions, they may not know every restaurant. That's where the Internet comes in.
The Internet has information about almost everything under the sun. Reviews provide valuable opinions from people who have used a service before. These opinions make it easier for clients to decide and attest to business reliability. Cool date night restaurants will have an online presence and are open to customer reviews.
Rather than relying on exaggerated adverts, read reviews to get firsthand experience and opinions from real users before making a reservation.
Consider Noise Levels in the Restaurant
While most restaurants will usually play soft music, some may be louder, and your date may consider it noise.
Cool date night restaurants play music for occasions. The noise level isn't high. Party rentals within the compound are noise-proofed. You should be able to have a conversation without any problems.
Also, noise may be a result of poor industrial building design. Choose a restaurant with furnishings that absorb noise.
What Is the Accepted Dress Code in the Restaurant
Some restaurants have dress codes to make the restaurant's intended atmosphere distinctive.
For these restaurants, the dress code is meant to protect guests from exposure to obscene costumes that could make others uncomfortable.
Therefore, before making a reservation at cool date night restaurants, establish first whether there's a dress code requirement and dress accordingly.
Choose a Restaurant That Fits Your Budget
An expensive, cool date night restaurant is not necessarily a cool one. But neither is a cheap, substandard one. A little splurging is a good idea. Your partner will most likely appreciate that extra effort.
That said, you don't want to open the menu and have a panic attack after seeing the prices. Go in if you're sure you can have a full meal without fear.
Make sure to compare menus for different restaurants and weigh the cost vs benefits.
Conclusion
Date nights come with a unique mix of apprehension and anticipation, especially if it's your first. From your outfit to how you speak, you endeavor to put your best self forward.
The need to make an outstanding first impression has led many to wonder just how to choose the perfect restaurant for date night.
As we've outlined in this article, several tips can help you make the best choice, including location, ambiance, music, your date's preferences, privacy, hygiene, and cuisine, among others. Remember to have fun while at it.
Please follow and like us: