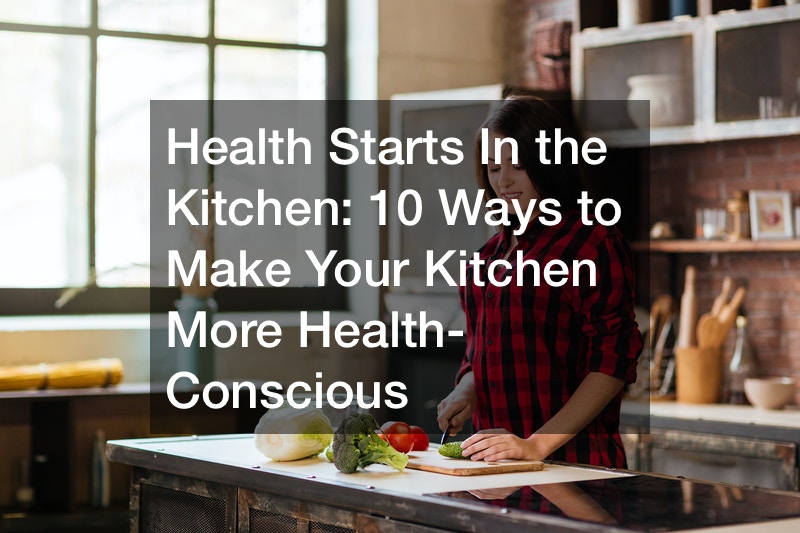 With the start of the new year, you may have decided to focus on improving your overall health. Good health starts in the kitchen, and there are many things you can do to adapt it as you become more health-conscious. Approximately one-third of homeowners report changing to a healthier lifestyle after undergoing a kitchen remodel. You don't have to completely remodel your kitchen to begin your journey to a healthier lifestyle, but making some smaller changes may help. Here are 10 ways you can make your kitchen more healthy.
Display Healthy Snacks and Fruits
Having healthy snacks and fruits readily available on your custom quartz countertops is one of the best health starts in the kitchen. It can help prevent you from reaching for unhealthy snacks and sweets when you're bored or experiencing hunger cravings. Arrange fruits and vegetables in pretty bowls and platters to make them even more enticing. If you have a busy schedule, you can buy pre-cut and pre-sliced fruits and vegetables to help make things even more convenient.
When it comes to snacks, choose items that are high in protein, healthy fats, and fiber. These items will help you feel fuller longer and keep you energized. These healthy snacks can include things like almonds, protein bars, beef jerky, and apple or banana chips. There are many great recipes you can find online to create these delicious snacks yourself rather than buying them at the store. You may also want to include a snack station in your car for healthy choices while you're on the go.
Set Up a Juice Bar
Another way you can make your kitchen more health-conscious is to set up a juice bar. You can even mock a restaurant or cafe's juice bar kiosk design to help you cut back on sugary and carbonated beverages. You'll need to decide on what juicing equipment will work best for you to create the best health starts in the kitchen. If you just want to enjoy a freshly squeezed glass of orange juice in the morning, all you may need is a simple citrus press. If you want to get the most nutrients, you may want to invest in a slow juicer.
Select an area of your kitchen where you will set up your supplies for a home juice bar. You'll want a spot for your juicing machine or gadgets, measuring cups, cutting boards, and knives. You may also want to include a blender to create healthy smoothies. Set up a few visually appealing bowls of different kinds of fruits and vegetables for easy access any time you want to enjoy a healthy and nutritious beverage. Prepare a few pitchers of healthy juice at one time so you can enjoy healthy nutrition all day long.
Reorganize Your Fridge and Pantry
Health starts in the kitchen, and your fridge and pantry are crucial aspects. An organized fridge and pantry allows you to easily see what you have at a glance. Good health starts in the kitchen by reorganizing your kitchen and pantry with healthy options. Put the most healthy ingredients at eye level in both your fridge and pantry. This will make you more likely to grab them first.
Stock up on spices and fresh herbs to keep in your pantry to flavor your food in a more natural way. You may want to keep a running list of what's in your fridge and pantry so you can keep track on what's available. You can also invest in performance drinkware for your kitchen to add style and elegance to your health-conscious beverage choices. Store them in your pantry as well for convenient access. You can save room in your pantry by storing items in sealed containers rather than their original packaging.
If you do have unhealthy snacks in your kitchen, hide them away on the top or bottom shelves to make them harder to access. Keep all food items specifically in your kitchen and not stored in various rooms of your home. Create a written meal plan each week based on the ingredients you have in your pantry and fridge. List the ingredients for each dish on the meal plan so you can see at a glance what items you will need to replace. When stocking your pantry or fridge, place newer items in the back to encourage you to use up items before they expire.
Purchase New, Health-Conscious Appliances
With the idea of health starts in the kitchen in mind, you may want to have health-conscious appliances at hand. Energy-efficient appliance installation can ensure you save money you can use on healthier food choices. Keep smaller appliances and cooking gadgets out in the open on countertops so you can use them more frequently. If you don't have enough countertop space, consider investing in special cabinetry to house them. You're more likely to use your small appliances if you can access them within easy reach rather than digging through the bottom cabinets.
Consider investing in healthier versions of the appliances you have in your kitchen. If you love fried food for example, you can purchase an air fryer to help cut down calories. If you have arthritic hands, you can invest in an electric vegetable chopper. Health starts in the kitchen, and an Instant Pot can be your best friend if you have an extremely busy schedule. For those looking to lose weight, you may want to invest in a food scale to help you control portion sizes.
Set Up an Area for Meal Preparation
Meal preparation is important when it comes to the idea of good health starts in the kitchen. You may want to set up an area specifically for meal preparation that will encourage you to cook healthier meals. Your meal preparation zone should ideally be somewhere between the stove and sink. One of the best options is to have a kitchen island to give you the space you need for meal preparation. Make sure you have all your knives, gadgets, and bowls in this area for easy access.
Have cookbooks that feature recipes that include vegetable and fruit superfood options to help you with your goal towards good health starts in the kitchen. You may also want to include a trash can in your meal preparation area for easy disposal of scraps after cutting up fruits and vegetables. Don't forget to have a spot nearby for things like paper towels, cling wrap, and other similar items you may need while meal prepping.
When it comes to meal preparation, you'll want to invest in a wide variety of food storage containers. You may want to invest in clear or glass containers so you can easily see what's inside. When preparing food, be sure to label each container with what's inside and the date it was prepared. Store older dated items up front to make sure you use them up before they go bad.
Hang Inspirational Quotes
Another way you can focus on your health starts in the kitchen is to hang up inspirational quotes to keep you motivated. You can hang up pictures of rewards you may want to indulge in for reaching your goals, such as a pontoon you had an eye on when you were browsing through used boats for sale, or even a new top or dress to add to your wardrobe. You may also want to post sticky notes on your fridge to remind you of certain health goals such as losing weight or getting more exercise. Sticking pictures and recipe ideas to your fridge could be motivational, too.
Add a Breakfast Nook
Adding a breakfast nook can make your good health starts in the kitchen a whole lot easier. It will give you a comfy place to enjoy those fruit and vegetable displays while spending quiet time alone or with your family. Decorate your nook with inspirational quotes. To create a breakfast nook, all you need is small, well-placed benches next to a window filled with comfortable pillows. Add a small table to set your meals on.
Consider how you can make the outdoor scenery more enjoyable for your breakfast nook. You could plant some pretty trees or flowers to look at while you sip your morning coffee. During the winter, you may consider purchasing a used snowmobile for sale or a new pair of snowshoes to encourage you to get more active in the snowy weather after enjoying a healthy meal. Add some potted plants or herbs along the windowsill for a mini indoor garden.
Make the Kitchen Accessible for Everyone
In order to affirm that good health starts in the kitchen, the room should be accessible to everyone in your home. Many of today's homes are typically built for able-bodied individuals, which can create many challenges for persons with disabilities. There are a few simple things you can do to make your kitchen easier to work with without having to make mass renovations. Take a hard look at your kitchen and see where you can make adjustments to make it easier to navigate.
If you have elderly parents living with you, you may want to hire in home care to prepare healthy meals for them when you're not home. If they are able to prepare their own meals, you may want to include safety features such as handrails or appliances that automatically shut off after a certain period of time. You may also want to think about renovations that you could make to make the kitchen more accessible for someone in a wheelchair. You may want to ensure that countertops and cabinets are within easy reach.
Make sure your kitchen has plenty of lighting, especially in hard-to-see areas. Consider installing pull out shelves to make meal preparation easier for someone in a wheelchair. Remove any rugs that can cause an elderly person to fall or that can snag in a wheelchair. Create plenty of open space for easier mobility around the kitchen.
Install Open Shelving
Another way you can reinforce that good health starts in the kitchen is by installing open shelving. Replace kitchen cabinets with heavy duty floating shelves for more kitchen storage. The more you can visually see what you have in your kitchen, the more likely you are to use those items. Open kitchen shelves are easy to install yourself in a matter of minutes. Use them to display your cookbooks, store herbs and spices for easy access, or hang up pots and pans or regularly used kitchen gadgets.
Consider Bigger Changes
You may want to consider bigger changes to ensure that good health starts in the kitchen. You may want to hire kitchen remodeling contractors to create your dream kitchen. If you have an incredibly small kitchen, expanding it will help you to have more space to prepare healthier meals. How your kitchen is designed can significantly impact your physical and mental health.
One of the first things you may want to think about when it comes to kitchen remodeling is choosing sustainable and non-toxic materials. Look for cabinetry and flooring that features little to no volatile organic compounds. This will allow for fresher air and better ventilation throughout your kitchen. Consider the overall layout and set up specific zones for meal preparation, cooking, and cleanup.
You can also make your kitchen healthier by installing water filters on your sink faucets. Tap water often contains pollutants that can be harmful to your health. Water filters can eliminate these pollutants to help you achieve better overall health. It can also improve the taste and quality of your food during cooking. If you don't want to haul heavy pots of water back and forth from the sink to the stove, you can have a water tap with a filter installed directly next to your stove for convenient access.
Becoming more health-conscious isn't easy, but the benefits are definitely worth it. You can start your journey towards better health by employing any one of the above ways to make sure good health starts in the kitchen. By making these necessary changes, you'll be able to improve your overall quality of life. Start small and make gradual improvements over time to help you reach your goals. Get started on your journey towards becoming more health-conscious today!
Please follow and like us: